PC Matic – Windows XP
In 2014, Microsoft abandons Windows XP, including security and vulnerability patches. Rob Cheng, CEO and founder of PC Matic, wants to help. Over 20% of Windows computers are still running XP, and Microsoft provides two options for current XP users.
Upgrade to Windows 8
Buy a new computer with Windows 8
Guess what, Microsoft? Not everyone wants Windows 8. By abandoning XP, Microsoft is using fear to sell Windows 8. But there is another option.
Keep Windows XP, and stay secure.
PC Matic keeps all versions of Windows running great, including Windows XP, Windows Vista, Windows 7 and Windows 8. More importantly, PC Matic keeps your PC secure from today's online threats.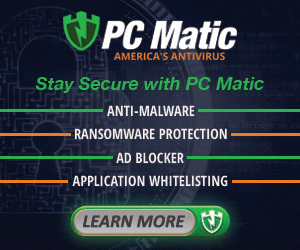 For a small annual fee, PC Matic provides superior protection from modern viruses that others don't detect. PC Matic also blocks annoying adware that hijacks online shopping. PC Matic also closes security holes in software like Java and Flash.
Don't be afraid – get PC Matic. Remember, PC Matic keeps all versions of Windows, including XP, running optimally, even after years of use.
PROTECT UP TO 5 COMPUTERS
$49.99