PC Matic Changes Advertising Strategy
After years of TV commercials featuring attractive young women getting their virus-plagued computers tuned up with help from dads, customers or tech guys, PC Matic is changing their advertising strategy. The new PC Matic commercials all feature founder and CEO Rob Cheng.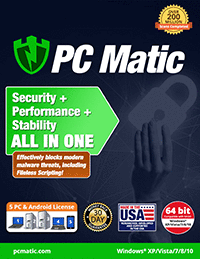 The old PC Matic commercials focused on the free download, and didn't mention that you have to pay to actually fix your computer and keep it secure. Of course, this is something you'd expect with commercial antivirus software. In the new TV spots, Mr. Cheng is upfront and clear that you need to pay $50 a year to protect up to 5 PCs. He may not be the most charismatic personality on TV, but does a good job of explaining why PC Matic's tech is superior to its competitors. And for all of you clinging for dear life to your old desktops and laptops with Windows XP, he promises to keep you safe even after Microsoft stops releasing XP patches and updates.
While we enjoy seeing Mr. Cheng smash computers with a baseball bat, we'll miss the old PC Matic commercials. They're like short plays, where the actors occasionally break the fourth wall and mug directly into the camera when they mention PCMatic.com. And we're still kind of in love with the flower shop girl, even if she doesn't seem overly bright.
Here's where to download and purchase PC Matic.